We have a neat tradition here at EML. Whenever we launch a new program with one of our customers, we celebrate by banging a gong on our main floor.
Now, this is no ordinary gong. It is large, in charge, and guarded by Lloyd Christmas!
A bang on this gong delivers quite a shock across the floor, at times throwing employees out of their chairs – which can certainly interfere with a phone conversation. Sometimes, if a launch has been particularly complex, we may have extra energy to take out on that gong!
No team member can escape our celebration of a customer success – and we like it that way. The point of this tradition is to remind ourselves of our focus on the customer.
"Customer Focus" is not just a phrase on our page of corporate values. It is what we live by. We recognize team members for their display of customer focus, we send team-wide emails to share overviews of each program launch, and we celebrate with our customers. One way we do that is by sending them their own mini gong after a significant program launch.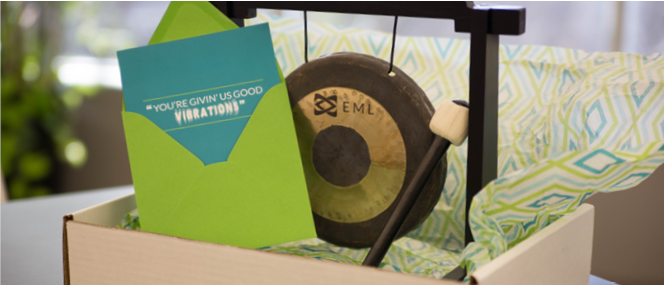 These mini gongs give our customers the opportunity to bang a gong along with us, from wherever they are. The mini gongs also symbolize our partnership and the mutual recognition that we only win by working together. Here's to many more bangings of the EML gong!