Did you miss our recent webinar with the Institute of Finance and Management (IOFM)? Well, you're in luck. You can still watch the recording of "How to Bring Order to the AP Automation Playground" and find out how to afford your own automation project in 2018.
On October 26, 2017, Speakers Mark Brousseau, leading analyst and researcher of business process automation,  and Ben Bianchino, Business Development Director at EML, teamed up to answer common questions AP professionals have on AP trends, including how to move away from manual and semi-automated payment processes toward implementing – and affording – their own AP automation software.
During the webinar, it was clear AP professionals are tired of sending payments the old way (paper checks) and are looking for new solutions. When asked to rate the state of their current invoice processing, 74% of participants rated their operations as completely manual to somewhat manual, while just 4% rated their operations as highly automated.
In the invoice-to-pay process, technologies for invoice capture and workflow management have become increasingly efficient, while many backend payment technologies have struggled to keep up. Some electronic payments still rely on sending separate payment files to several different banks or vendors, which is not a truly automated process.
According to IOFM, the invoice-to-pay lifecycle in most organizations consists of 36 touch points, which introduces many opportunities for manual handling, delays, and even errors in automation. When compared to manual and semi-automated AP departments, IOFM research tells us that highly automated AP departments process payments in less than 1/5 the time, eliminating late payments and opening the door for more early payment discounts.
So what does a truly automated AP process look like?
Capture – The collection of incoming invoices, whether paper or electronic, should be stored in a central location. This allows pertinent data to be accessed by your accounting, finance and AP departments. Plus, with a good invoice capture tool, you'll eliminate keying errors and your department will have more time to focus on the company's bottom line.
Workflow – Workflows help tell you how close a given invoice is to completion, who's doing what, and how long they are spending performing certain tasks. Without a truly automated process, your department is missing out on visibility, control and accountability.
Payment – Approved invoices should be released by the same system and executed by a centralized payment processor, regardless of payment method. This is the last mile of AP automation, and it's also where many organizations have not made the switch to an automated process from a manual process.
In an ideal world, invoices should flow seamlessly from your supplier's billing system through your AP automation and enterprise resource planning (ERP) tools, yet most companies practicing AP automation lack integrated payments. Despite the fact that a single payment made via check can cost AP departments anywhere from $4 to $20 in postage, materials and other equipment, IOFM research shows 65% of businesses still pay most of their suppliers via paper check.
Companies who adopt an integrated payment process enjoy:
Automated execution and posting
Easier conversion to e-payments
Reduction in manual processes
Less paper – "greener" payments
Additional revenue via card rebates
Considering 2/3 of webinar participants struggle to find budget for their AP automation projects, integrated payments provide cost justification opportunities. For companies with manual AP processes, the money saved replacing checks with other forms of electronic payments can help pay for an AP automation project. Additionally, early payment discounts and virtual card rebates create new revenue opportunities that further alleviate project costs, and even generate a profit for the company.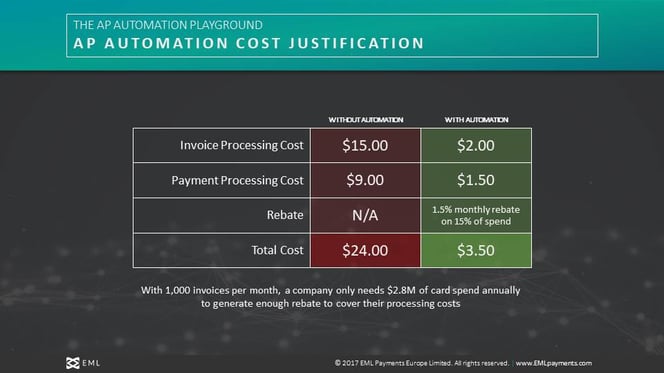 An integrated payments partner should:
Ideally, accept a single instruction file from your AP automation software for ALL payment types
Automate execution and post to your ERP
Provide a supplier portal
Provide an in-house supplier enrollment team and support
Be a certified processor
If adopting AP automation software is a strategic goal for your company in 2018, we'd love to discuss how partnering with an integrated payments partner might solve some of your budgeting and resource challenges. Contact us to get a free spend analysis and learn more about EML.